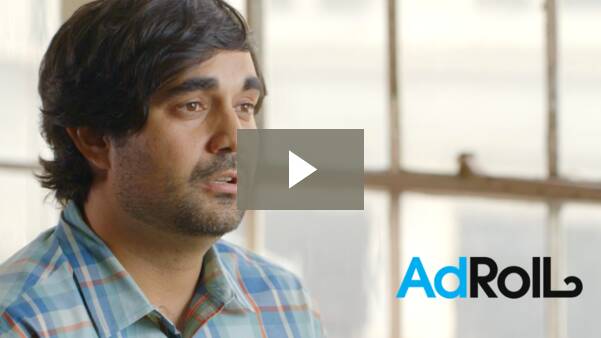 To maintain their amazing growth trajectory and stay one step ahead of the competition, AdRoll has instilled a culture of data driven decision making. Infer helps them scan thousands of signals from across the web so that they can identify which customers are most likely to convert. At AdRoll they have one set of leads that convert at 4x the baseline, and one set that will never convert. Infer helps them tell the difference between the two. As their Sales Reps think about who to call out to, Infer ensures they're focused where they've got the best shot at winning.
Video Transcript
[
Dan O'Connell, Sr. Director of Sales
] Here at AdRoll, we get tens of thousands of inbound leads. To maintain our growth trajectory, and stay one step ahead of the competition, we have to find ways to work smarter. [
Suresh Kahanna, SVP of Sales & Operations
] There's this common phrase you hear from sales leaders; If it's not in salesforce it doesn't exist, and I think that's true for transactional data, but the reality is that there is a lot of data that isn't in salesforce, that would be very helpful to sales organizations. Infer is like our private google search engine. It considers
thousands of signals
from across the web and creates this custom index that is almost bent to the needs of AdRoll's business, it's fascinating that they do this for every different customer that they have.
[Dan] So how infer works is that it looks at your existing customer base, and it looks at all of the new opportunities that are coming into the system whether through your website or whether through outbound sales, and it will score those and identify which ones should be a customer for you.
[Suresh] As sales reps think about which prospects to go call out to, infer surfaces the best opportunities to them. We have one set of leads that converts at 4x the baseline, and one set that'll never convert. Infer helps us tell the difference between the two.
[Dan] It's incredibly valuable, it solves so many challenges on the sales front, It makes people more productive, It makes you more informed as a manager.
[Suresh] Having spent five and a half years at google, the one thing that you get nailed in to your brain there is how to build globally scalable sales teams. How do we make every single person make the right decision throughout the day.
[Dan] I love everything about infer. I smile and laugh, but I love the support and the team that we have. I love the data it provides. It's so easy, that it took us literally five minutes to implement, you see the immediate value, they have an amazing team that provides support and service and they are constantly innovating and thinking about what's next. I can't think of a single reason why a company wouldn't want to use a tool like infer.