Zendesk Success Story
August 26, 2013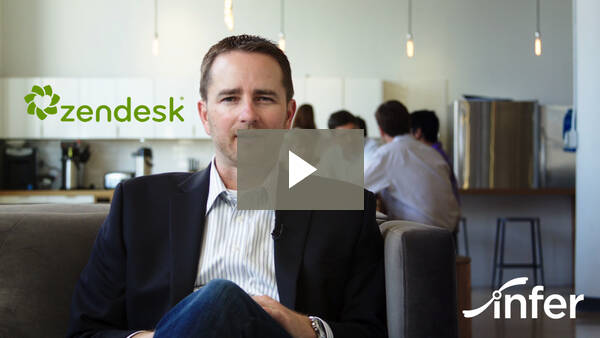 95% of Zendesk's close/won opportunities are identified using Infer's lead scoring model. Hear from Zendesk's CMO, VP of Sales, and Head of Global Sales Operations. This is a terrific example of a company who is supercharging their revenue using predictive intelligence. Their leveraging big data and re-defining to redefining how companies companies should operate.
Video Transcript
[Bill Macaitis, CMO] Life before Infer was going back to the Stone Age.
[Jim Cyb, VP of Sales] Chaotic, inefficient an extremely expensive.
[Bill] Zendesk is the leading cloud provider of customer support software.
Today over 30,000 companies use Zendesk to deliver great customer service to over 200 million people.
The Zendesk sales models is a hybrid approach. We allow anyone to come to the site try and buy our products, and they can do it completely self-service or they can go through our sales team. It really just depends on the company size and how much and engagement they wan to have with our sales team.
What I love about Infer is that it superchargers our revenue.
[Stephan Blendstrup, Global Sales Operations] Ninety-five percent of our closed/won opportunities are identified because of Infer's leads scoring model. Basically we were able to increase our productivity by 70%.
[Jim] It allows us to scale our operations at a really low cost by reducing the amount of sales reps that we need.
[Bill] We look at growth in terms of 10x and how can we continue to scale.
[Jim] We now have full confidence that that the leads we're getting are the leads we should spend time on. We can focus all of our energy on providing a better sales experience and marketing can focus on better hyper-targeting of our leads.
[Stephan] The Zendesk Infer integration was remarkably easy. We created a field in Salesforce, we gave them access to the system, and 24 hours later we had 15,000 leads being scored.
[Jim] Infer really allowed us to take the guessing out of what the leading indicators are for conversion. It did regression analysis on all of the different data that we had and determine the proper way to do lead scoring.
[Bill] Ah. If someone took Infer away from us it would be devastating. It's such a core piece of a technology to us and it would not be happy place.
Transform Your Pipeline Today
See Firsthand How Infer Uses Your Own Data To Create Custom Scoring Models